Some time ago, I learned about Unsplash, calling itself the "internet's source of freely usable images," I think from an article in a library publication. It is currently a subsidiary of Getty Images. As a test, I decided to search for the word "librarian." 21 photographs come up, tagged with this term, under the heading "Results for Librarian." I hoped for the best in my search, but seven of them have White people, ten include books stacked or the library stacks themselves. If we include the four librarians in the ads sections at the top and bottom, titled "Browse premium images on iStock | 20% off at iStock", it is a little better, as three are Black, one is presumably Asian, and four are White.  Even so, they could still do be better, especially since most of the librarians are in the iStock images and not in the main results! Disappointed and disturbed by these results, which had a lack of diversity, I decided to look at Giphy instead to see if the results would be better. As a disclaimer, which should be obvious, this post is only a beginning of an analysis, is NOT comprehensive, and is NOT an academic analysis and should never should be treated as such. Despite those qualifiers, I hope it is helpful to librarians out there, in some way. On with the post!
There are 153 gifs when someone searches the word "librarian." Of these images, at least forty one are White people, one is non-human, one is a person of color, I think, and there is only ONE Black woman, pictured in a gif added by NARA, going through a card catalog: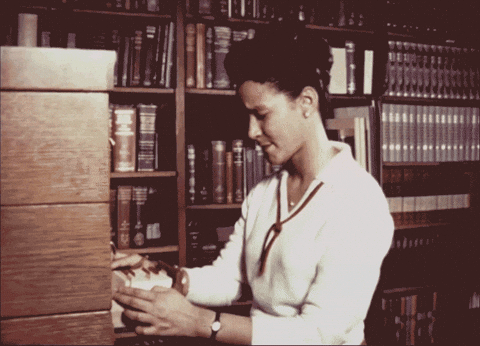 There are also two giphy clips at the top with White female librarians. So, that doesn't bode well, even though some of these gifs were added by librarians themselves! Yikes.
I looked on Tenor, another gif site, searching for the word "librarian," and there were similar results, although there was more variety than those on Giphy, as there was one Asian female librarian moving books from one shelf to another, which I'll show below. Unfortunately, the "sexy librarian" gifs were at the top of the search and throughout the search itself. There were some non-human librarians shown, and at the very, very end was a gif from Library War, so that was cool.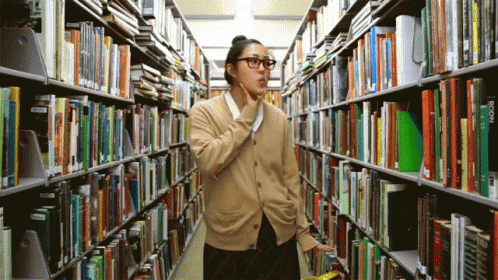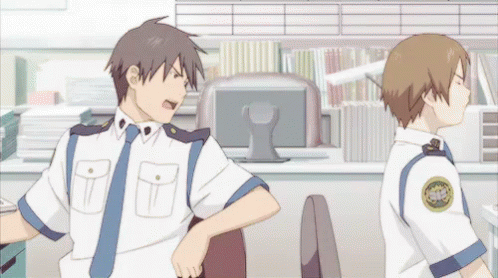 I searched on gfycat for the word, "librarian," and found nothing but a mix of strange, bizarre, and disturbing results which are replete with stereotypes. It was almost as bad as the search I did for images on Imgur for the word "librarian." The subreddit for gifs didn't have much, the word "librarian" doesn't even show up on one site, or another site also focused on gifs. Results on Tumblr were not that promising, and worst of all is imgflip. After seeing the categories they had, I felt like that was enough and I didn't need to go any further than that to see the type of images on the site:
These results are not altogether surprising. Sophia Noble, who authored the book Algorithms of Oppression: How Search Engines Reinforce Racism has said that while people "think of search engines as neutral, objective fact-checkers, reliable, and curated by experts" they are anything but that, as she noted that "Google Search is rife with disinformation and propaganda." She then said that social media, internet searches, and the internet itself are "profoundly distorting," with some technologies are predatory, platforms "implicated in trafficking in hate on the internet and in real life," and so on. I'd argue the same applies to sites such as the ones I've talked about in this article, as those sites reflect biases, stereotypes, and prejudices held by society as a whole, and more specifically those individuals, organizations, and such which add the gifs (or stock images in the case of Unsplash) in the first place! A good first step would be for people to add more gifs to these sites of librarians who are people of color, although much more needs to be done beyond that.
GIFs and memes are not harmless, as made clear by White people using gifs of Black celebrities to express their feelings, which some have called "digital blackface." While generally the "images used to share emotions and feelings of relatability over social media and text messages…are almost overwhelmingly black" as noted by Erinn Wong, when it comes to librarians, those shown are overwhelmingly White! This is not much of a surprise, however, as the latest demographic data from the ALA shows an overwhelmingly White membership base (over 86% white), and there are, as of 2016, over 140,000 librarians in the U.S. alone. [2] It was also argued by Jennifer Vinopal that the library field is "starkly lacking in diversity based on race and ethnicity…age…disability, economic status, educational background, gender identity, sexual orientation, and other demographic and identity markers of difference." Even so, there should still be more diverse depictions of librarians. If we use ALA statistics of members by race and family origin, then out of every hundred librarians portrayed, the minimum would be as follows: one should be Indigenous and/or Hawaiian / Pacific Islander, three to four should be Asian, four should be Black, four should be other, and all the others would be White. This doesn't account for the 4-5 would be Latine, as 4.7% said they identify as this when asked to describe their ethnicity. In total, this would mean that there should be a minimum of 16-18 librarians who are people of color in popular culture mediums each year, in order to reflect the field. From now on, I'm going to try and measure that, each year in what I'll call the 16-18 Rule and may rename that in the future to something else. [3] It would only apply to productions, like animated series, made within the U.S., not those made elsewhere, in countries like Japan, for instance. It would NOT apply to these stock image sites, just to be clear.
© 2021 Burkely Hermann. All rights reserved.
---
Notes
[1] This includes a White middle-aged woman in the Netherlands, an old White woman, an old White man sitting at desk, a stack of books and a White woman, and three of a sexy White librarian. Also, a book bag, a book quote, and a castle in distance are pictured.
[2] In the UK it is even less diverse, according to a joint study in July 2017 by the Society of Chief Librarians (SCL) and the Chartered Institute of Library and Information Professionals (CILIP), saying on page 4 that "…45% of the current library and information workforce will reach retirement age by 2030…97% of the UK library and information workforce self–identify as white…the library and information workforce is 79% female and 21% male." This led some to rightly say that UK librarians need to "work harder to get rid of our unconscious biases, both on an individual and organisational level."
[3] Appended to this can be what I'd tentatively call the three disabled librarian rule, as the ALA survey in 2017 noted that the library field "remains about 86% white and 97% able-bodied," although this is assuming that the ALA accurately represents the library field, which has been thrown into question. That survey, which did not ask about sexual orientation, noted that 19% identified as male and 81% as female, so you could have an 2-8 rule, meaning that for every eight librarians shown, two others should be male. Whether I actually put in place these rules or not, I don't know, but using metrics like this can be useful.
---
Note, update on 9/21/21: In my original article, in my analysis of Unsplash, did not include the ads at the top of the page. I can't go back in time to when I did this analysis, about a month ago, but I think I didn't include those because they didn't load when I looked at it. Because if they had been there, I definitely would have noted it. So, today I just saw those and updated the article accordingly. I did this in response to one person on Reddit who seemed to say my analysis was faulty, declaring: "But there are only 4 people in the Unsplash search that the author is complaining about. If 18% should be people of color, that is actually 0. So, we don't have enough info as to whether UnSplash is not representative," and adding "at least for me, the iStock photo ads all over the page feature ONLY librarians of color (and not sexy librarians either.) I'm curious if that is what others see too?" The tone of the comment negative, from what I could tell, but I responded to it the best I could. Not sure why people make comments like that, trying to pick away at the post. It is sad to see. Aren't librarians supposed to support one another? As it turned out, the commenter was only concerned about Unsplash not being a good example site, and I said "…I felt like I should include them because they had come up on some library lists…I'm not really a fan of Unsplash either, but they are definitely useless for that search, sure. Google Images is ok, but the problem with analyzing it is that the filter bubble can skew your results, so one person's Google results may not be the same as another person's." So, I guess it ended up being positive in the end?